Fado and Flamenco, old friends!
Both Fado and Flamenco have arisen from the melting together of different musical cultures and have their origins in the same period.
The project IBERICO wants to bring these two legendary musicstyles together on stage, in all their remarkable resemblances and their challenging differences.

Resemblances? Well there are quite a lot :

* What is essential with both Flamenco and Fado is that "the sparkle spreads over". That's why the stress is allways on expressivity and emotion. Flamenco nor Fado is music which is just being played for the sake of it. It really is an interaction between the artist and his audience. When it turns out really fine, the Saudade in Fado and Duende in Flamenco are the magic result of that.

* Both have evolved from the fringe of society. In the poor quarters of the fast growing cities people lived, or better survived, together with people with often a totally different ethnical background. They created their own, proper culture. A mix of fatalism, pride and energy became the soundtrack for their daily struggle for survival.
Their was a need for a new kind of music for them to express and identify themselves. As a result of this Fado originated in Portugal and Flamenco in Andalucia. Since quite some time now, they have become the two most famous musicstyles by far from the Iberian peninsular.

* At first sight, the energy and atmosphere of both seem almost contradictory. But if you look a bit beneath the surface, you will soon discover some musical resemblances.
Both have a traditional repertoire as basis, one that most musicians know about. Aside of that, the regular rhytmic and harmonic structure provides space for very personal and emotional interpretations in which you can fully improvise.

* The Casas de Fado have really helped establishing Fado in Portugal at the beginning of the 20th century. And it is exactly in this same period that Flamenco managed to increase its popularity substantially in Andalucia thanks to the gaining power of the Cafe Cantantes!

* Both Fado and Flamenco have been manipulated in the early 20th century by dictators as Salazar (Portugal) and Franco (Spain) and proclaimed as "national popular music". But insiders know better than that : Averse from whatever political influence, Fado nor Flamenco have ever stopped from evolving, only obeing to their own laws and their own soul ! The interest and attention for each other – experiment that "IBERICO" is all about – is precisely what makes this performance so interesting !

On stage we hear in turn very moving Flamenco and equally traditional, embrasing Flamenco. In this performance Fado and Flamenco move gradually towards each other as to end in a joint apotheosis!
Maria da Saudade
Maria da Saudade started her career after having won a local fado concours in Portugal. Since then, she performed at important Portuguese and foreign theaters (for instance De Bijloke Muziekcentrum in Ghent, Belgium), and recorded four CDs. She invented a very unique, original style of singing within traditional fado, sculpting a 'saudade' out of the silence in such a way that her voice always seems on the verge of breaking, but instead of tearing up constantly affirms a profound and generous 'yes' to life in all its dimensions.
Joao Escada
Born into a family of fado musicians, Joao Escada was put on a table as a young boy, and urged to sing during long 'fado nights'. Later on, he worked together with nobody less than the 'king of fado' Fernando Mauricio, who became his main fado teacher. After having won de famous 'Fado Revelation' prize, with nobody less than Amalia Rodrigues as president of the jury, he obtained contracts in famous fado houses in Lisbon, until he started to travel abroad to sing for Portuguese immigrants in Europe, and in foreign theaters. In Belgium he shared the stage of De Bijloke with Maria da Saudade, and performed in theaters such as CC De Centrale.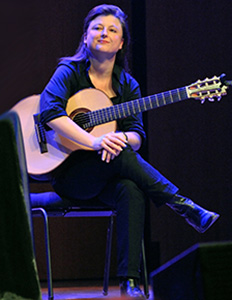 Ana Luisa
As the first and only woman playing the viola de fado, Ana Luisa has been accompanying winners of the most important fado prize in Lisbon, the 'Grande Noite de Fado', for more than ten years now. Member of the group built around fadistas Maria da Saudade and Joao Escada, she also plays with various other groups in the Benelux. She has adopted and developed the sober, severe style of playing the viola de fado of truly amazing musicians such as José Inacio, and could be heard in Belgium at places such the Hot Club de Gand, De Centrale, De Bijloke, etc., all while continuing to perform for the Portuguese communities abroad.
Luis Ribeiro
Luis Ribeiro is a very well-known Portuguese guitarra player in Lisbon. He travelled for five years with fado diva Amalia Rodrigues, and has in the meanwhile become an expert in improvising in a very pure and interiorized fado style, which nevertheless allows the most unexpected eruptions.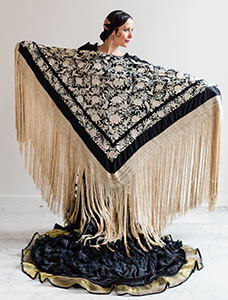 Irene Alvarez, dance
The Sevillian Flamenco dancer Irene Alvarez began her training in classical Spanish dance at the age of nine with the famous Matilde Coral in the "Real Conservatorio Superior de Musica y Danza" in Seville. In 1993 she earned her degree and since then she has continued to perfect her dancing with guidance of legendary dancers such as El Güito, Manolo Marin, Javier Latorre, Isabel Bayon, José Galván, Pilar Ogalla, Angel Atienza and Manuel Betanzos. Building on the traditional Flamenco she has developed her own distinctive style which constantly moves between an impulsive, sometimes quite modern expression, and the feminine elegance which is the hallmark of the Sevillian school. In 1992, Irene starred in the film "Sevillanas" by Carlos Saura, but she only began to perform in tablaos and international theaters on a regular bases since 2002. She frequently collaborates with guitarist Antonio Andrade and the dancer Federico Ordoñez, with whom she founded "DOS" . In addition to her performances at various European festivals, she has also been invited as a guest soloist with various ensembles and several cross-over projects. In 2010 she founded her own "Cuadro Flamenco Irene Alvarez", along with singer Carmen Fernandez and guitarist Alexander Gavilán and produces the programs "The Alegrias Soleares y" and "Zarzamora." Irene leads her own dance school "Arrebato", was assistant to the Maestra Isabel Bayon during the festival of Jerez in the years 2009 and 2010 and is a guest lecturer at Codarts Rotterdam.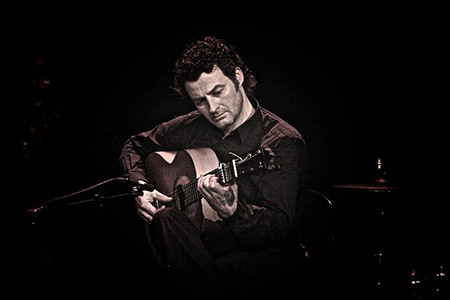 Alexander Gavilán, guitar
The Flamenco guitarist Alexander Gavilán mixes an orthodox technique with modern, usually own compositions. His playing is intense and virtuosic. He is a skilled dance and vocal accompanist and sometimes also performs solo. Although he is more at home within the traditional Flamenco , where he frequently works with dancers Irene Alvarez and Federico Ordoñez and the singers Carmen Fernandez, Jose Ligero, Ana Gomez and José Parrondo, he also enjoys participating in musical experiments such as for instance with the group "A touch of Flamenco" by drummer Klaus Mages or the "Music Ensemble of Benares" (Kathak / Flamenco).
Alexander Gavilán studied Flamenco guitar at Codarts Rotterdam with Paco Peña, Ricardo Mendeville and Hans van Goch. In Seville, he took classes with Niño de Pura, M.A. Cortes and J.L. Postigo. he also attended master classes with Manolo Franco, Tomatito, Paco Serrano, Moraíto, Alfredo Lagos, Chicuelo and Diego de Morao.
Since 1994, Alexander Gavilán starred with various ensembles (including "Amanecer," "A Touch of Flamenco", "DOS", "Trio Federico Ordoñez") on numerous European stages as a guest.
In 2007 he produced the show "Pastora", a tribute to the singer Niña de los Peines (Zuiderpershuis Antwerp) and in 2008 "12 Tiempos de Amor" for OdeGand, Festival of Flanders. Since 2005 he combines his performances with an appointment as a lecturer in Flamenco guitar at Codarts Rotterdam. His latest projects are "The Alegrias y Soledad" (2010) and "Zarzamora" (2011) with the "Cuadro Flamenco Irene Alvarez".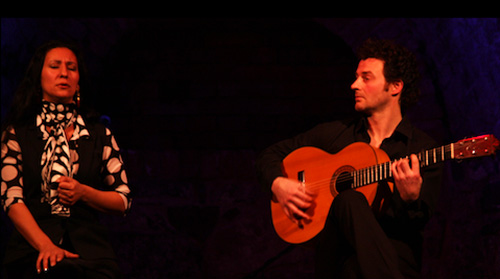 Carmen Fernandez, vocals
Carmen Fernandez was born in 1968 in Utrera (Seville province) and comes from a prominent Flamenco family to whom the legendary singer Juan Talega belongs. As the youngest daughter of a gypsy family she was raised with Flamenco. Her mother is a singer, her father a dancer. It is thus no surprise that Carmen soon dedicated her life completely to the Arte Flamenco.
First as a dancer, then as a singer she is a faithful interpreter of the ancient Flamenco traditions. Yet she manages to give it her own personal and distinctive touch.
She is a Flamenco singer with a sound base of Flamenco knowledge. With her powerful, compelling voice, she was already the favorite of the public in countless Flamencopeñas in Spain and numerous of festivals in Germany and the Benelux.
She has worked with a large number of artists including Concha Vargas, Joaquin Ruiz and Andres Marin.
Discography: her first CD dates from 2003 and the second and most recent CD, called "Naturá" was launched in 2005.
Both as a soloist but also as a dance companion, she stood on many major venues in Europe and Japan.