"VERSOS JONDOS"
Vicente Soto "Sordera"
This show is an adaptation to Flamenco of a selection of poems written by Juan Ramón Jiménez, Federico García Lorca, Miguel de Cervantes, Rafael Alberti, José Bergamín, Fernando Pessoa, Salvador Rueda, Antonio Machado and Manuel Machado.
Vicente Soto "Sordera" has scored these texts that reflect joy, love, sadness, death, etc. To achieve it, he performs ten different flamenco styles, from the shocking Seguiriyas to the cheerful and festive Bulerías.
The poems have been adapted to the metric of each Flamenco style by writer Pedro Atienza.
"Versos Jondos" premiered at the Centro Cultural de la Villa de Madrid, with great success, coproduced by the University of Alcala de Henares (Madrid).
Artistic:
Cante: Vicente Soto "Sordera"
Guitar: Manuel Valencia
Percussion: Manu Soto
Artistic Direction: Vicente Soto
Adaptation of poems: Pedro Atienza and Vicente Soto
Coordination: Fabián D. Sánchez
Production: SH Record

Program:
• Presentation "Versos Jondos: La letra en movimiento"
• Fernando Pessoa "A la orilla de este río" MARTINETE.
• Rafael Alberti "En la arboleda perdida" ALEGRÍAS.
• José Bergamín "Maldigo las horas" SEGUIRIYAS.
• Juan Ramón Jimenez "Nocturnos" SOLEA POR BULERIAS.
• Miguel de Cervantes "Don Quijote y el loco Cardenio" TANGOS.
• Federico García Lorca "Las tres Hojas" RITMO DE VALS.
• Antonio Machado "Una mañana de otoño" ROMANCES.
• Salvador Rueda "Rayito fuera de luna" COLOMBIANAS.
• Manuel Machado "Dos clavellinas" BULERÍAS.
BIS: Poems and popular songs of various poets
(Machado, Lorca...) POR BULERIAS
Approximate duration: 75 minutes.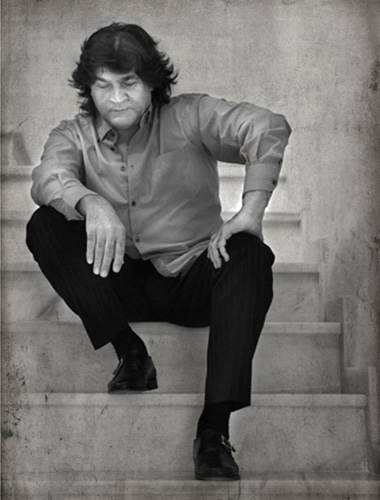 VICENTE SOTO "SORDERA" 's BIO
Vicente Soto "Sordera" was born in Jerez de la Frontera (Spain). He belongs to one of the most important Flamenco families, "Los Sordera".He's owner of one of the most significant legacies of the cante jondo (Paco La Luz, Niño Gloria, Manuel Soto, his father). Vicente Soto's got the most important Flamenco awards (Premio Nacional de Córdoba, Premio Pastora Pavón, Premio Mairena del Alcor...), showing the old wisdom of Flamenco, and has performed at the best Flamenco and Latin Festivals in the world and big world stages as: La Scala di Milan, Theatre National de Paris, Teatro Avenida de Buenos Aires, Teatro Comunale di Roma, Theatre Albeniz de Madrid, Theatre Sao Luiz de Lisboa... and all over USA, Japan, South America, Australia, Europe, etc.
He's joined Flamenco and poetry, by singing some poems from the most universal spanish and south american poets, like Machado, Cervantes, Unamuno, García Lorca or Rubén Darío. It's important to point out some of his greatest performances as "Pessoa Flamenco" (released at the Theatre Español in Madrid and Theatre Sao Luiz in Lisboa); "Cantata Flamenca" by José Bergamín (released at the Teatro Albéniz in Madrid and at the Bienal of Sevilla), "La Casa de los Sordera" (released at the Theatre de la Villa in Madrid and Teatro Central in Sevilla). He toured all over the world with the show "Flamenco Puro" or "Entre Dos Mundos", a show that combines Flamenco with Latin rhythms and represents the cultural hybrid that has come out of the clash between Spanish and American Cultures.
Vicente Soto's recorded 11 previous CD's, accompanied by the most important Flamenco guitarists such as Vicente Amigo, Tomatito, Paco Cepero, Enrique de Melchor, Moraito, José María Molero, Pepe Habichuela, Gerardo Núñez, Manuel Parrilla or Diego del Morao. RTVE produces its "Trilogy" dedicated to Seville, Jerez and Cadiz: a sort of encyclopedia of the song that contains 40 different styles of the three cities, which is brought to theaters in the show "Rutas Jondas: Sevilla, Jerez, Cádiz", released in Europe and USA between 2003 and 2004.
In 2005 he releases "eStar Alegre" and the show "El Quijote Cantante y Sonante". In 2010 he presents his shows "Geografías Flamencas", at Madrid's Teatro Price and "Los versos navegables", in the Festival Internacional of Teatro of Almagro.
In 2012 Vicente Soto releases "Colores Distintos".

Press Quotes:
"The most significant poetry brought to flamenco enriches it, if the adaptation is done with intelligence and creativity. And the good aficionado is thrilled to hear sublime poems through the flamenco voice for all styles of the genre. That's my experience and conclusion regarding the show «Versos jondos». Its protagonist, the singer Vicente Soto «Sordera», shows his mastery and his power when he sings the great poets. It's admirable his ability, professionalism and dedication to carry out this impeccable work.
Vicente Soto «Sordera» lives a moment of artistic fulfillment". Manuel Ríos Ruiz (ABC Newspaper)
"Vicente Soto "Sordera" is an artist full of sensibility, a master of music". Paco Herrera (Cadena Dial Radio)
"A great Flamenco singer, expert in all kind of styles, that leaves his mark". Enrique Montiel (Tiempo Magazine)
"The poet of the contemporary Flamenco". Manuel Martín Martín (El Mundo Newspaper)
"A great show full of beauty, rhythm and nice harmonies". José Manuel Gamboa (La Razón Newspaper)
"One of the best spanish artists". Interviú Magazine
"His shows are wonderful, thanks to the mastery of his art". Alfredo Grimaldos (El Mundo Newspaper)
"The only cult Flamenco artist after Camaron's death". Carmen Salmerón (EFE EME Magazine)
"A CD that's going to become a symbol of its time". El Mundo Newspaper.
"It's a must see show. Bergamin's family was delighted". Joaquín Albaicín (ABC Newspaper)